Clayton County Energy District provides FREE Home Energy Assessments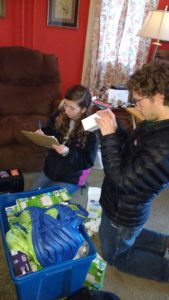 For the third year, the Clayton County Energy District (CCED) in partnership with Green Iowa Americorps will continue to offer free residential energy check ups. In addition, free installation of energy efficiency measures will be provided to qualifying residents.
Green Iowa Americorp (GIA) is a non-profit service organization based out of the University of Northern Iowa's Center for Energy and Environmental Education. The group is working to promote energy efficiency in homes throughout Iowa. The teams provide free home energy assessments, gas appliance safety checks and reviews air flow.
The thorough process has two components: an energy check-up followed by direct installation of simple energy efficiency measures. The energy check-up is led by a BPI-certified service member and begins with a quick check of attic insulation and combustible appliance testing. The team checks for potential gas leaks and carbon monoxide around water heaters, furnaces, pipes, and other gas appliances. After confirming that the house is safe, the team sets up their blower door test to calculate how much cold air infiltrates the home. When homes are insufficiently sealed, the Green Iowa team works to identify and fix the leaks. The direct installation of window frame caulking, weather stripping, plugging holes, and other measures, makes the home more air-tight.
Next, the GIA team installs LED lighting throughout the home. The switch from incandescent lighting to LED leads to the most significant energy savings. Additionally, the team installs low-flow water fixtures.
Clayton County Energy District, Program Coordinator, Joleen Jansen explains, "The GIA team impacts Clayton County energy consumption. Last year, the GIA team assessed 49 homes for gas appliance safety and energy efficiency. In those 49 homes 1000 light bulbs were replace with LED bulbs resulting in a 38,000 kilowatt hours electricity consumption reduction. This translates to over $5000 in local energy savings!" Jansen continues, "When this is combined with the other energy savings measures completed in the 49 homes the total dollar amount retained for reinvestment in the local county economy exceeds $6000. The CCED board of directors believes they have only begun to scratch the surface of real residential energy savings."
Free Home efficiency or direct install materials and labor are available to senior citizens, persons with disabilities, veterans, and low-to-moderate income households. Non qualifying participants only pay for the cost of direct install materials and LED light bulbs. Typical out of pocket expense for non qualifying participants range from $15 to $150. The CCED is committed to providing free energy assessments for everyone. All assessments include a written report summarizing the work done,estimated cost savings, estimated carbon reduction, and a site-specific recommended action plan.
To schedule your free home energy checkup contact Clayton County Energy District Program coordinator, Joleen Jansen, (563)880-7915, joleenj@energydistrict.org or visit ClaytonCounty.EnergyDistrict.org to sign up for your free home energy assessment.
The CCED in a non profit organization committed to building community by facilitating a local,clean energy transformation. Donations to support the work of the Clayton County Energy District are welcome, needed and encouraged. Donations can be made online or sent to
Clayton County Energy District Treasurer, Elaine Funke
PO Box 211| Edgewood, IA 52042